What they say about us.
Early years…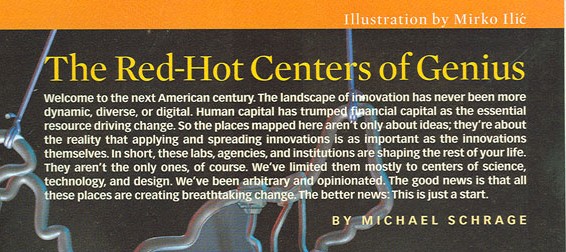 Center for Evolutionary Psychology named "Red Hot Center of Genius" by Esquire Magazine The Center for Evolutionary Psychology was identified as one of 26 "Centers of Genius" in the U.S. in the November 1999 issue of Esquire magazine. Other centers included Cal Tech, Johns Hopkins and Carnegie Mellon (as research institutions), MIT's Media Lab, Xerox PARC, the Santa Fe Institute, the Whitehead Institute, IBM's Watson labs, the National Center for Superconducting at Illinois, Gehry Associates, and Ideo. Esquire article / Esquire text only
John Tooby, author profile in Nature 2007
"Making the paper" Click here for more…
Leda Cosmides wins 2005 NIH Director's Pioneer Award
UCSB Release … Pioneer Awardees … NIH Announcement… Science article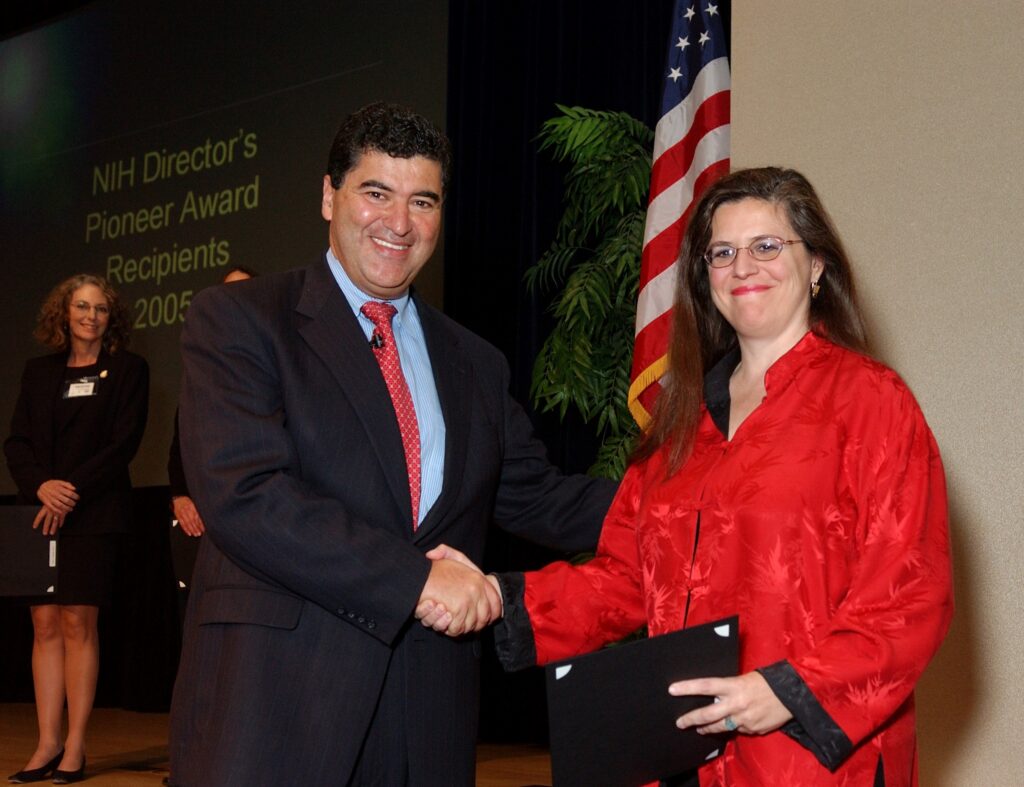 Cosmides with NIH Director Elias Zerhouni Class of 2005
Some early articles
Newsweek 1989 "How the mind was designed" by Geoffrey Cowley
The Economist 1992 "A critique of pure reason" by Matt Ridley
The Economist 1993 "Just folks" 'Review of The Adapted Mind 1/9/93 vol 326, issue 7793, p. 86
U.S. News & World Report 1993 "How the modern mind evolved: Stone age priorities" by William Allman
Time 1999 "Where anthropology meets psychology" in issue on the 100 Greatest Thinkers of the 20th Century
New York Times 2000 'Evolutionary psychology: The landscape', in "Born or made?" by Erica Goode
The Economist 2001 "Them" by Geoffrey Carr
Economist 2012 'Political strength: A man's muscle power influences his beliefs' in "Body and mind"'
Interviews
La Tercera, Paula Magazine (Chile) June 2018 (Cosmides) Instinto Ancestral en la era digital (Ancestral Instinct in the Digital Age)
Psychology Today, August 2013. Doug Kenrick: An interview with a founder of evolutionary psychology: Leda Cosmides on the birth of evolutionary psychology.
El Mercurio (Chile) October 2001. Alvaro Fischer and Roberto Araya interview Leda Cosmides
Generosity and the evolution of cooperation:
Spatial cognition: Adaptations for gathering, female advantage
Coalitional psychology (the psychology of "us versus them" and race)
The Economist 2001 "Them" by Geoffrey Carr
No Hate Left Behind 2019 New York Times Thomas B. Edsall
United Press International 2001 "Categorization by race not inevitable" by Damaris Christensen
San Francisco Chronicle 2001 "Racial profiling not 'wired' into brain" by Carl T. Hall
Reuters 2001 Racism is not hard-wired, researchers find by Maggie Fox
Reuters 2001 Racism may be erasable: Study by Merritt McKinney
Africa News 2002 "South Africa must transcend its divided history" (Mail & Guardian)
New York Times 2008 "Our racist, sexist selves" by Nicholas D. Kristof
Boston Globe 2008 "Black man versus white woman" by Drake Bennett
Dr. David Pietraszewski's research on how cooperation decreases categorization by race…
Dr. David Pietraszewski's research on the cognition of politics…

Plus international coverage on the web and in…
(and cheater detection– the cognitive foundations of economics)
The Times of London – Sept 6, 2014 (requires subscription)
Tech Times – Sept 1, 2014
The Times of India – Aug 30, 2014
The Daily Mail – Aug 29, 2014
Huffington Post – Aug 28, 2014
Wall Street Journal – Oct 20, 2012
Science Daily – April 19, 2012
Radio Australia – April 19, 2012
Medical News Today – April 12, 2012
The Telegraph – April 11, 2012 [Strength in Hollywood action heros, Aaron Sell]
Radio New Zealand National (Audio here, approximately 8 minutes) – July 17, 2010
Radio Causeway with Pav and Tim (Audio here, approximately 30 minutes) – July 13, 2010
CNN Health – June 21, 2010
Scientific American (Audio here, 1 minute) – June 16, 2010
New Scientist, issue 2765 – July 16, 2010
Colombian National Radio (Audio here, Spanish and English, 9 minutes) – January 21, 2010
Quirks & Quarks with Bob McDonald (near minute 14) – Sept 3rd, 2009
Brain and Evolution, "The Adaptive Value of Exaggerated Strength: The Case of Violent Human Yells" – July 26, 2007
e! Science News, "UCSB study finds physical strength, fighting ability revealed in human faces" – October 22, 2008
Express India, "Boxing opponent's face tells about his fighting ability" – Oct 23, 2008
Science Daily, "Physical Strength, Fighting Ability Revealed In Human Faces" – Oct. 25, 2008
Real Fighter Magazine #25
Slate Magazine, "Facial Profiling: Can you tell if a man is dangerous by the shape of his mug?" – Oct 14, 2009
RE: Sunday Times article on hair color and aggression; The Sunday Times of London published a piece claiming that we found a link between blonde hair in women and anger, entitlement and "warlike" behavior. No such research was done and the claims are almost certainly false! Click here for our detailed response to the Sunday Times of London. – January 17, 2010
On shame as an evolved defense against being devalued by others
Are modern political views shaped by ancestral selection pressures?